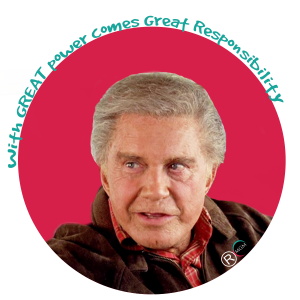 This is it! The most anticipated Marvel movie of the year (not for everyone) is here. Welcome to the King of Wakanda! T'Challa! Black Panther! A black superhero movie with a cast mainly composed of black actors in a big Hollywood franchise! I am so excited!
With such a wait, such apprehension, I could have been easily disappointed. Even if this film is an event, it's not different from the other Marvel Cinematic Universe movies. It's still Marvel, it's still Disney and you can see it in the dialogues. Some lines were pleasant to hear and made me laugh at times.
The strength of this film is that it mainly takes place in Wakanda, this fictional country of the African continent, full of vibranium and high technologies. T'Challa, played by Chadwick Boseman, is about to be king after his father – T'Chaka – was killed in a terrorist attack, seen in Captain America: Civil War. Once on the throne, he will quickly understand what are the reign difficulties and will have to face enemies coveting the vibranium of his country (Klaue played by Andy Serkis), as well as his throne (Erik Killmonger played by Michael B. Jordan).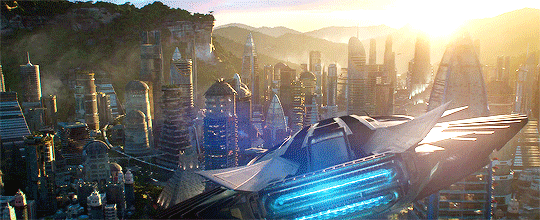 I say it like a cry from the heart: I am and will always be a fan of the animated film: The Lion King. It's the best one that Disney has ever created, and this is nice that Black Panther has been inspired by it. There is no problem when a parallel is made on two members of the same family, fighting for a legitimate or illegitimate throne. T'Challa is Simba, T'Chaka is Mufasa and Erik Killmonger is Scar although the relationship is different.
But there is something wrong when a scene is almost a copy and paste of another one from The Lion King. And that same scene appeared three times. You wonder what happened when they wrote the screenplay. You can imagine production saying "So what? Black Panther and The Lion King: there is a continent in common. This is the same thing!" I surely exaggerate, but I had the feeling that there was no research nor imagination from the production for this scene.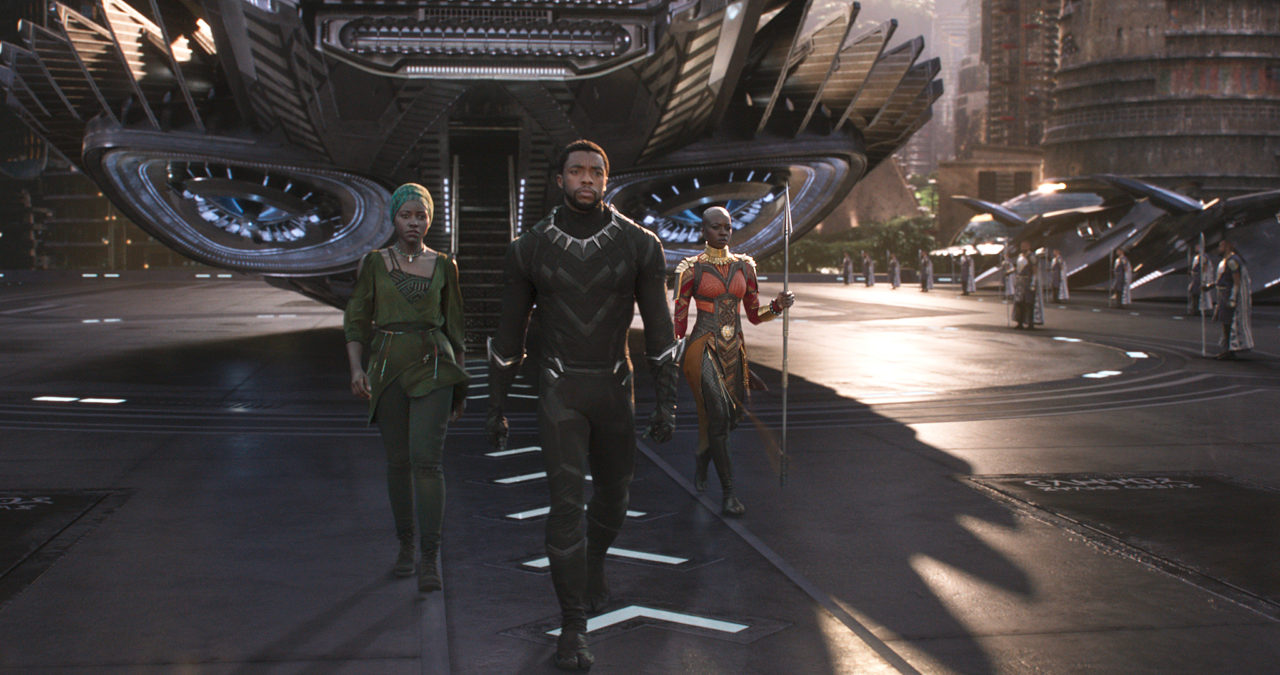 The film starts with an explanation of what and where Wakanda is and why and how the villain is bad. But actions scenes didn't take long to come and came up sparingly even if there was a grand final full of actions like in every Marvel movies. Although it was entertaining, I have to say that the visual effects that went with these actions seemed a little 'what the fuck!'. They made them at times completely crazy. And computer-generated images could be a problem especially with the wide shots on the landscape of Wakanda.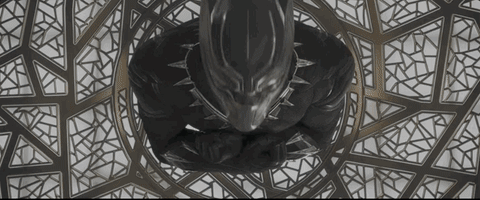 However, actions were still very well illustrated whether it's by the music produced by Kendrick Lamar or composed by Ludwig Göransson who was inspired by the rhythm of various African countries where he travelled.
I found the cast perfect. Their African accent sounded strange to me at the beginning, but you easily get used to it. Each character had the charisma to be noticed. Chadwick Boseman (James Brown in Get on Up) was perfect as a doubtful king and Michael B. Jordan (seen in Chronicle / Creed / Human Torch in the unsuccessful reboot the Fantastic Four) was a very interesting nemesis and would almost steal the show from the main character.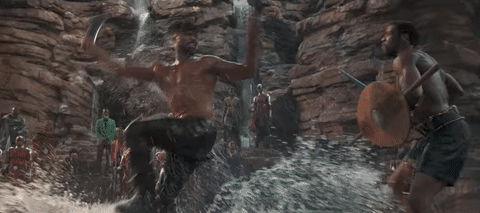 Lupita Nyong'o (Patsey in Twelve years a Slave) who plays the spy Nakia and Danai Gurira (Michonne in The Walking Dead) as the general Okoye were sublime, strong women and warriors, just like Letitia Wright, who plays Shuri, T'Challa's little sister who was youth and freshness in this cast. Women had a very important role. They were not here to be pretty (Pepper Potts !!!) or to highlight men and the hero. On the contrary, they acted and fought for values and principles they believed in, which made them even more admirable. It's also the case for Angela Bassett as the Queen Mother, Ramonda ready to do anything for her son. You easily realise that women protected the country and the throne.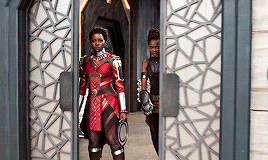 I thought that Martin Freeman's character (Everett K. Ross) would only make a short appearance and yet it's Andy Serkis who did what I call a "Smaug" just like in The Hobbit: Battles of the Five Armies.
Ryan Coogler (director of Creed) managed to make Black Panther a real hero in the Marvel Cinematic Universe, without introducing another hero to connect him to the Avengers. He also made him much more human than other superheroes.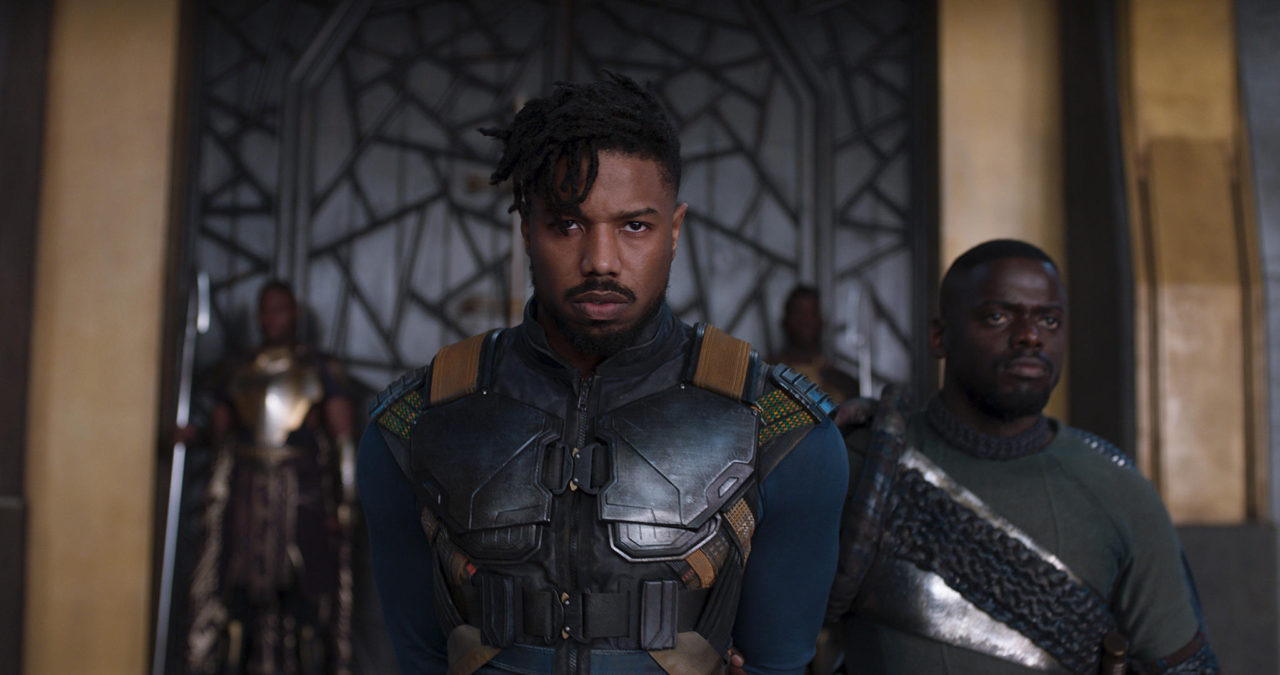 I spent a great time watching this film that has strengths and weaknesses. This is the first Marvel which highlight women and their power. I wish one thing now, that Black Panther will not be put aside because of all these superheroes who will be in Avenger: Infinity War.
Is it #DudeChick certified ?