Here are 2 movie digital campaigns that recently caught my attention, by being innovative and particularly opportunistic in order to appeal to young millennials.
What I think is really interesting is to see how the studio marketing strategies are looking to go even further with their digital advertising, which means trying out mobile advertising.
They are taking the opportunity of the great millennials mobile apps playground such as Twitter, Snapchat, but also Tinder!
The promoted movies are not that mainstream, I mean, they belong to a "niche" either by their tone or their genre. The first film is "Sausage Party" with Seth Rogen; with his tone and humour that makes the actor's trademark unique in Hollywood. This movie is even more daring than usual as it's an animated movie dedicated for young adults and not kids (definitely not for kids, parents don't be mislead when picking up the film!). And the second one is "Mike and Dave need wedding dates"; a comedy with Zac Efron & Anna Kendrick for young adults also, that absolutely needs to have an original promotion to stand out against the fierce competition.
1- Sausage Party Campaign
The Sausage Party campaign strength comes from this original content produced especially  for promotional purposes:
Funny right? But most of all, completely nimble with the environment, the topic, the tone and the technical challenge: All matches with the movie context! Completely viral content material. Indeed perfect, as I'm now sharing this video with you when I could have recalled many others while I was just scrolling my Facebook feed. This video has over 3M views on Youtube today.
So what this campaign is also telling us? It shows how strong Sony puts its effort into digital. Indeed, this video was supported by many partnerships like Buzzfeed which helped produce & promote the content above:
But also with webserie, with MY DRUNK KITCHEN on YouTube:
And also on Snapchat, with a dedicated filter designed for the movie:
All this native advertising might have cost quite some money. As a matter of fact, this digital campaign actually cost way more than usual digital spends. According to this article in Variety, digital represents almost half of the P&A budget for this movie when it's usually more around 12%.
2- Mike and Dave Need Wedding Dates campaign
For Mike and Dave need Wedding dates, 20th Century Fox found a very relevant in-app environment to promote the movie: TINDER! Again perfect match with the movie context, right?
In the app, you can see the movie character branded profiles with the 4 actors, popping up just like they are living next door, looking for dates.
Then, it's really simple, either you swipe right or left: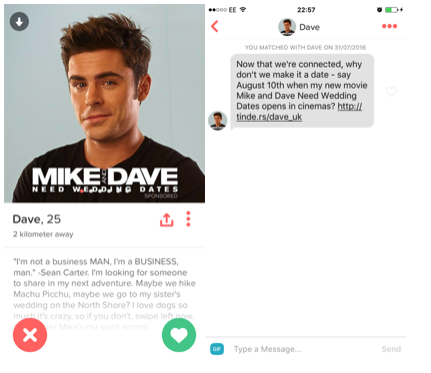 Quick tip: In case you are interested, Dave isn't really 25, just saying 😉
Thanks to this in-app environment, you can, as a marketer, very concretely measure how engaged is your campaign audience. With indicators such as:
The swipe rate: right swipe/ impressions
The interaction rate: numbers of clicks through the link/ numbers of right swipe
The conversion rate: numbers of purchases/ number of clicks through
Your target audience value: value of the tickets purchased/ number of clicks through
Customer Acquisition Cost: campaign budget/ number of unique users who purchased at least one ticket
Your campaign performance (ROI): (value of the total conversions- campaign budget)/ campaign budget
To conclude, I believe those hyper targeted digital campaigns can make the difference because they "make sense" and the audience should just feel they are. Even more with native mobile advertising, which helps your audience being more engaged with the branded content, since it's so easy to swipe right and fun to share your sausage avatar.
Millennials are a very sought-after target audience. They are tech savvy and open to non-conventional marketing campaigns. Therefore, viral content and native ad in a thought through environment are significant advantages in your marketing strategy. You can compete against bigger budget movies such as "Suicide Squad" where word-of-mouth is just huge! Of course, better when it's a positive one! See the article 
And you, would you match with Zac Efron?
Because it's fun & a bit creepy at the same time 🙂