I was off for a while but now I'm back! It's my "back to school" moment, after enjoying summer, it's time to write down some thoughts. Summer means big movie releases & Super Heroes, like recently Suicide Squad, so it's the occasion to ask if bad reviews really affect Super Heroes titles?
2016 is a critical year for Warner, as the studio is releasing new titles that should guarantee long term franchise success. Superman v Batman and Suicide Squad have introduced new franchises and prepared new titles arrivals like Wonder Woman & Justice League, to directly compete against the numerous Marvel titles. Franchises that are well implemented in people's minds, with huge fan's expectations, and many to follow for years.
See by yourself: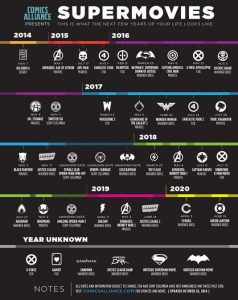 Those titles are obviously aiming to break all the records in term of worldwide gross and to rule the box office for weeks. Past Super Heroes movies shown such performances before, with recently the great hit of Deadpool. Deadpool was great, however, it's hard to say the same for all of them.
Your moms' names, really??! You can do better than that!
Indeed, Batman v Superman & Suicide Squad have faced a pretty bad review storms.
 Still, those franchises are making a lot of money.
With Disney as the top winner:
 Dawn of Justice has grossed $872 million and Suicide Squad more than $465 million worldwide already.  But did they perform as expected despite the negative reviews? Think about the Fantastic Four (2015) that did only $167 million worldwide, I believe its terrible reviews didn't help!
Truth is, I wonder if Super Heroes franchises are so expected and so global that negative reviews won't affect their grosses. Like, even if your friends told you they hate the movie, you still have to watch it in theaters just to see by yourself. In Suicide Squad's case, movie fans, even the press, gave very harsh rates; but the movie is still number one for its second week. So what is the real power of word of mouth here? Can you identify a correlation between bad reviews and the box office evolution? If people sign a petition to shut down Rotten Tomatoes after Suicide Squad negative reviews, I guess it's because they believe in this web site influence. You can imagine there is some cause & effect phenomenon here, but based on what key metrics?
Being curious about this topic, I found a very interesting article in The Hollywood Reporter that gave me an angle.
Using 2 metrics:
Rotten Tomatoes Score

:

From 1 to 100% this is what people think about the movie.
The % gross drop in the 2nd week of the movie release:

you usually see a drop between the first week and the second week of the release, especially when the movie is highly expected. Everybody is rushing to see it first. The 2nd week is a good date range as it's just the time you need to have the first people reviewing the film and the word of mouth starts doing its job.
And a performance trend reference:
Since a drop is usual, when do you actually consider the drop being too big or just ok? Based on trends, professionals set the limit at -60% drop in the 2d week, more than that, it's not that great.
Well, based on that, I wanted to give a try and made a small scale analysis for fun, especially to check on this question:
What if we can find out a performance "equilibrium" target?
If there is a direct correlation between the audience rating & the % gross drop, what would be the target Rotten Tomatoes score to reach to expect your film being "on track"?
First, I've picked up some Super Heroes films:

and tried to find a pattern:

Takeaways:
1/ It seems we have a linear correlation between the reviews and the impact on the 2d week drop.
2/ This helps identify an equilibrium score. Looks like you need to get at least a 71% Rotten Tomatoes score to expect your film reaching -60% drop and above.
So if you want your movie grosses last the long run, you better have good reviews. Depending on your target goals, this can definitely give some KPI to consider when defining your marketing spend. That's the type of everyday analysis I'm doing in my job 🙂
Indeed, I guess, Warner is now having a very close look at those numbers since audience reviews & feedback can have some serious consequences on a movie release but also tarnish Studio image. The open letter recently released by a former Warner employee strongly questioning the Studio artistic lead on those franchises shows how far the "bad buzz" can go. Audience mind matters even for Super Heroes; social media, press, blogs… All have a part to play in the equation. Now let see how DC comics upcoming movies marketing strategy will try gaining back fans enthusiasm.
And what about you, do you think your voice can make the difference? On my end, I like to think it does.
And that's totally Dudechick to believe so 🙂