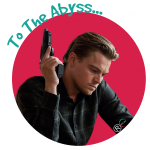 There are films like this one… Films you redoubt, you are reluctant to watch, not because they look bad, on the contrary actually, but because you know you will get into a difficult thematic while the screenplay & acting will be just great. "Amour" from Michael Haneke or "Nebraska" from Alexander Payne are that kind of films.
 "Still Alice" completely fits into that category. Julianne Moore just received an oscar for her performance in this movie so  it is a must see. Therefore, I've watched it  without exactly knowing what I was about to see. However, the poster still gave me an idea. A strong woman, about fifty, facing a terrible ordeal… Truth is, at first, I wasn't super excited to see Julianne Moore depressed  on screen!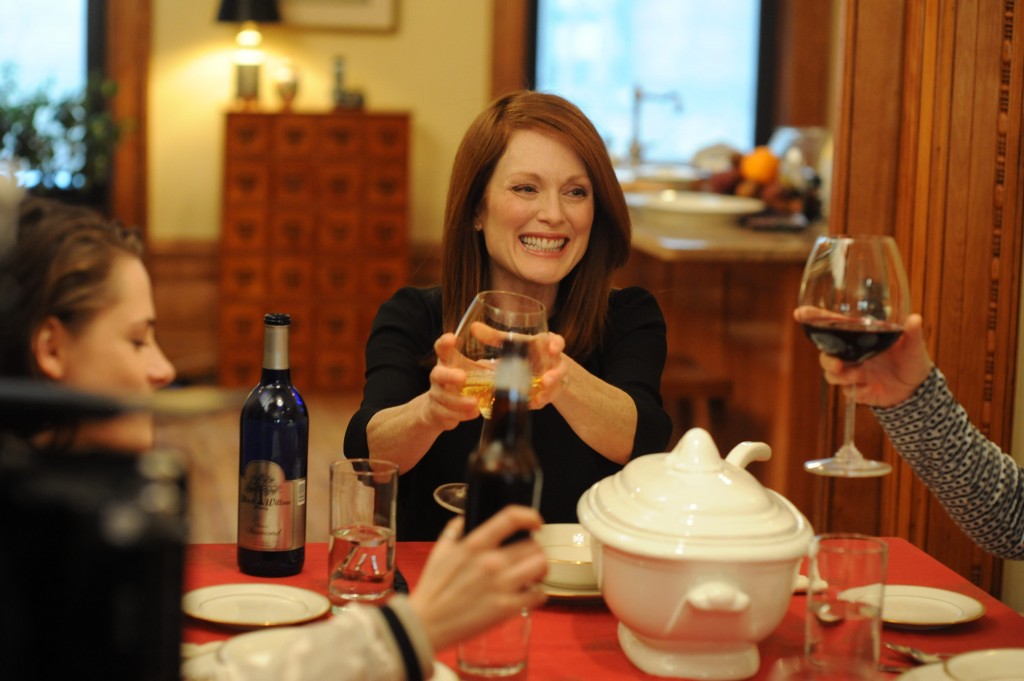 But here it is, after just few minutes, you are glad to get into Alice's peaceful – almost too perfect – life: a mother of 3 grown children , living with her beloved husband, both considered as part of  the most educated and smartest minds of Columbia University. However, everything falls apart, pieces by pieces, triggered by terrible symptoms. Alice is tremondously brave when she learns she is in an advanced stage of Alzheimer disease.
Between pragmatism & fear of the unknown, the extreme reliance until the loss of your own identity, the directors Richard Glatzer & Wash Westmorland  deliver a nice job through scenes which put you completely into Alice's skin. When she gets lost while jogging in the middle of the campus, the camera rotates around her to create a 360 degres shot with a strong blurred effect and dissonant noises. You lose your bearings. Catching back her breath , she is at first dazed, then desoriented and ends completely afraid. This growing up fear is accentuated by the directing choices and the actress' expressive look.
Another significant element is the use of technology associated with the illness. Alice uses on a regular basis her smartphone and her laptop for the best and the worst. As an ally but sometimes as an enemy, her device allow her to train her memory, skype her children, but also realize her disease degradation, and record a morbid conversation  with herself. So, many nice things done with the best intentions that describe a hard reality not always easy to face. However, I think the movie has two major drawbacks to mention:
First, the film in general is quite unequal, oscillating between striking scenes and overdone ones. Hard to find a good balance. The whole atmosphere reminds me of the TV show "The Big C". It deals with a mother fighting against cancer who would rather celebrate life than dramatize her illness. What bothers me, is you quickly have an apology of tearful, too much good willing, it gets mushy…. being enlightened yes, celebrating sorrow, no thanks!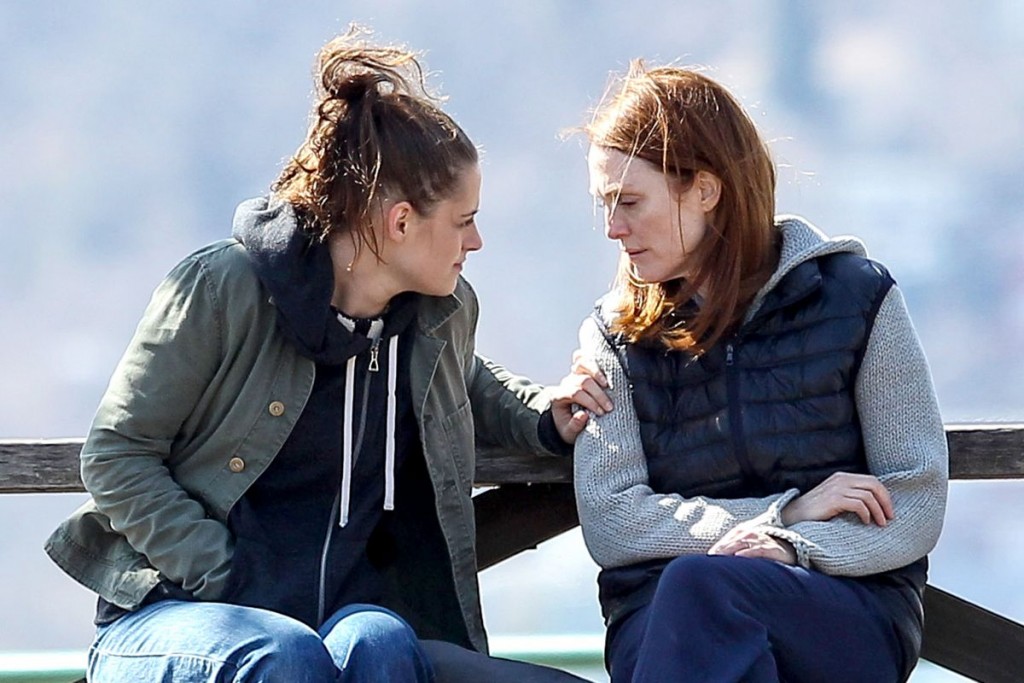 Another big con is Kristen Stewart who plays Alice's youngest daughter. I'm not convinced at all by her performance. It's quite ironic, since her character has the ambition to become an actress &  takes acting classes in Hollywood. Stewart, overplays, lacks of spontaneity, wears masks instead of  embody her character. Facing Julianne Moore, the comparison is quite harsh for her. A slighly open mouth and putting your hand in your hair cannot channel  any emotions. Well, her acting is way too demonstrative, quite childish, and not convincing at all.
To conclude, you have a nice film overall, thanks to the impressive performance delivered by Julianne Moore. This movie moves you, scares you, and outrages you observing a brave woman struggeling against her disease. Admittedtly, there is clumsiness , but it is worth to let your guard down and accept to be taken by the story.